I had this posted a long time ago, but I took it down when Live Journal censored it at "Andy Blake's" request. But I think I can work out an acceptable solution to "Andy's" gripe this time. Anyway, for your perusal, the many faces of Amy Player:

0. Amy Player, age 8 or so. Source: Friend of the Player family. Pictured with her mother, Cyd Player, and Kamazar, an Arabian horse.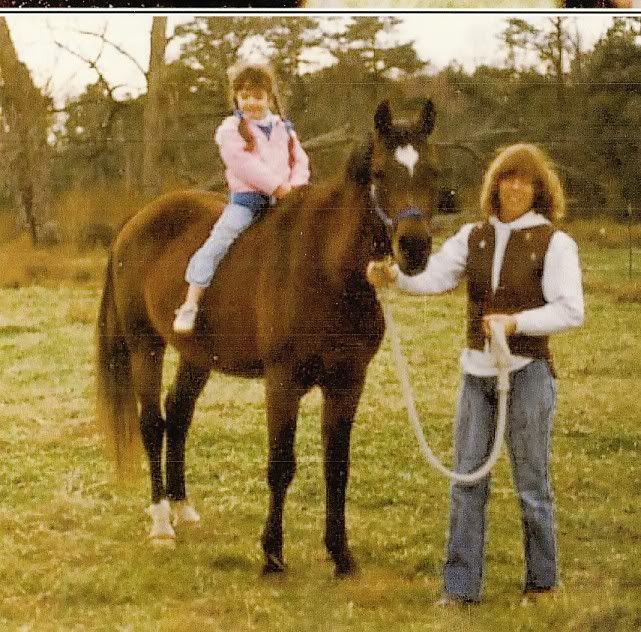 1. Amy Player, age 18 or so. Source: Her father. Specifically, when Amy sent her parents a Fake Suicide letter in 2003, her horrified father jumped on a plane to Oregon to find her. He asked the sheriff's office for help. He gave them this photo, which became part of her arrest record.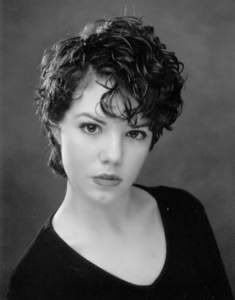 2. Victoria Bitter, age early 20's. Source: I don't remember who sent this to me, but it was someone who met "Victoria Bitter" at an event called "Connexions."






3. Jordan Wood, first appearance, Line Party for "The Two Towers" film premier, parking lot of Lloyd Center Cinema, Portland, Oregon. December, 2002. Pictured with Abbey Stone. Source: Unknown photographer. I don't remember who gave this to me. I may have pilfered it from the Web--all I seem to have is a low-rez version.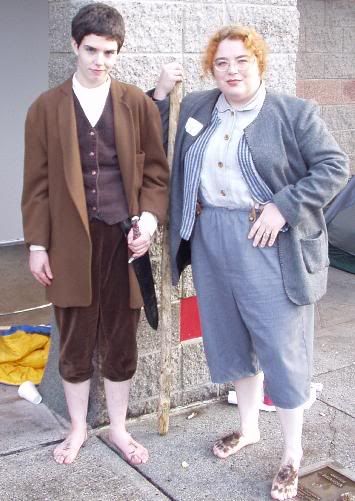 3. Jordan Wood. Source: The official photographer from Project Elanor. Pictured with Abbey Stone.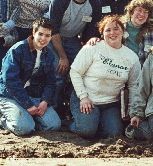 4. Jordan Wood. Source: The official photographer from Project Elanor. Pictured with Abbey Stone and Sean Astin.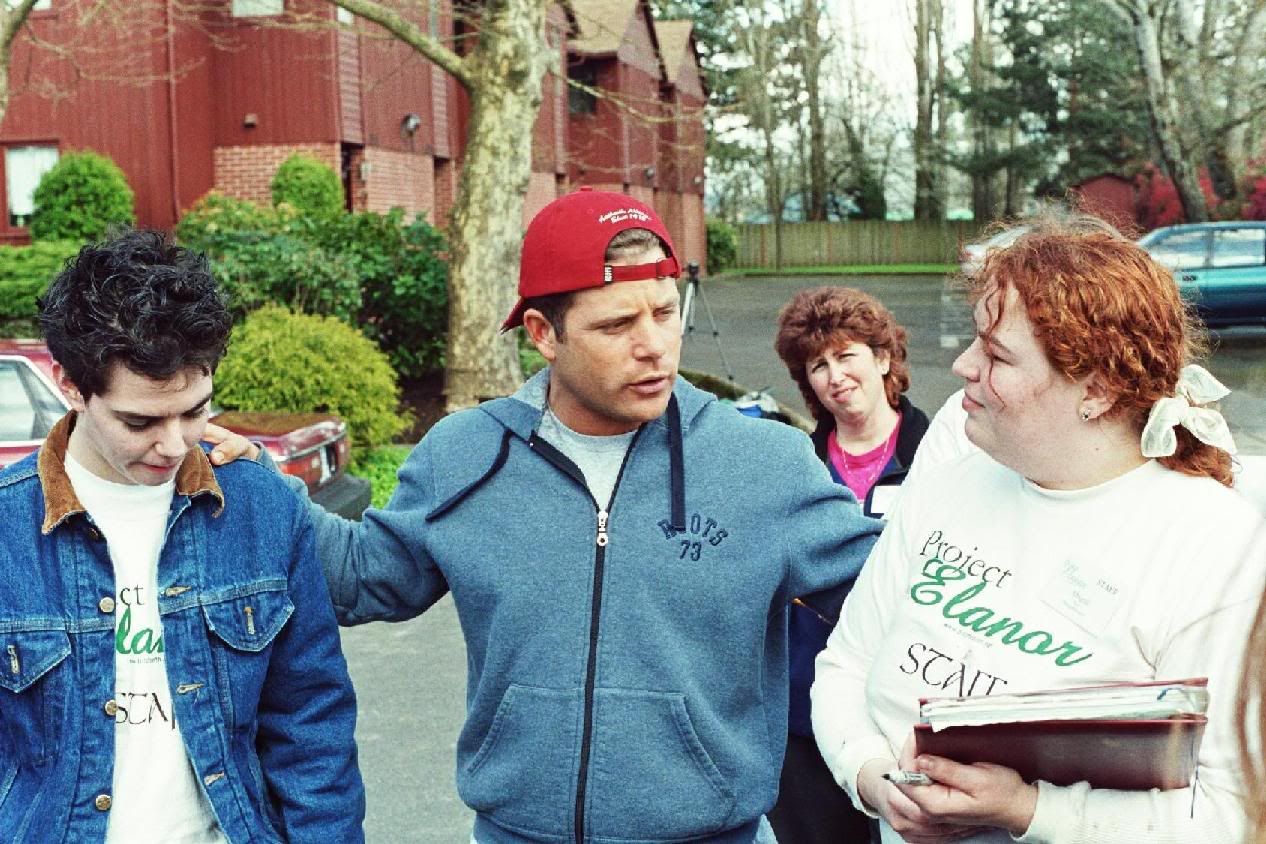 5. Jordan Wood. Source: Unknown photographer. Picture was taken a week after Project Elanor, at a "Finishing the Garden" work event. Note the phony cast that allowed poor "Jordan" to be freed from performing any work at the work party.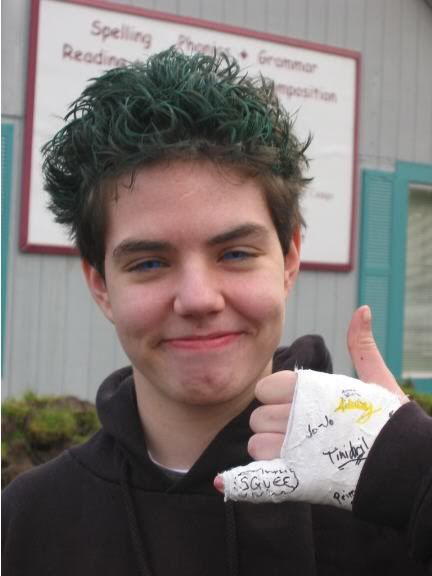 6. Amy Player/Jordan Wood. Source: Press release by Marion County Sheriff, summer 2003, regarding the "missing person" Amy Player, rumored to be suicidal. Includes "Jordan's" driver license photo from the Oregon DMV records. Wish I had a better copy.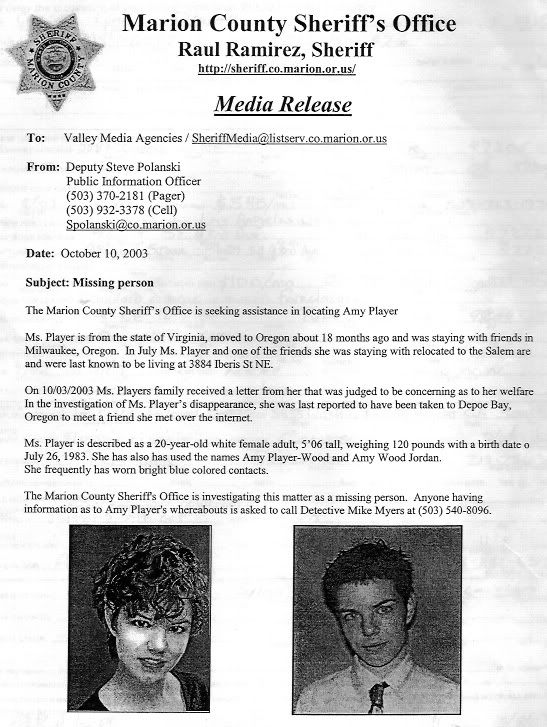 7. Amy Player/Jordan Wood. Source: Mug shot, Marion County Sheriff, December, 2003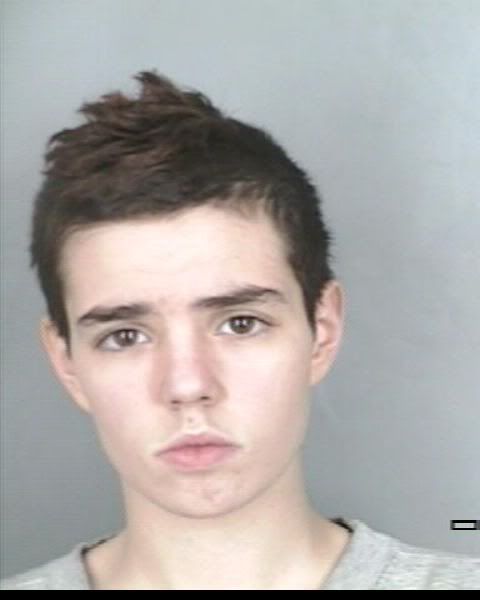 8. "Harry Potter by Jordan Wood." Source: LJ reader Oulangi, who worked for the Wax Museum on Hollywood Blvd in LA. Summer, 2004. "Jordan" gave her this card, which had been made by local talent agency. The agency was contacted by Zach Dundas, a reporter from Willamette Week in Portland Oregon. Zach was trying to track down Amy Player for an interview regarding his upcoming article about Bit of Earth. Upon learning from Zach that "Jordan" was not a young man with a degree in acting, but rather a young woman who'd been arrested for identity theft, the agency fired Amy.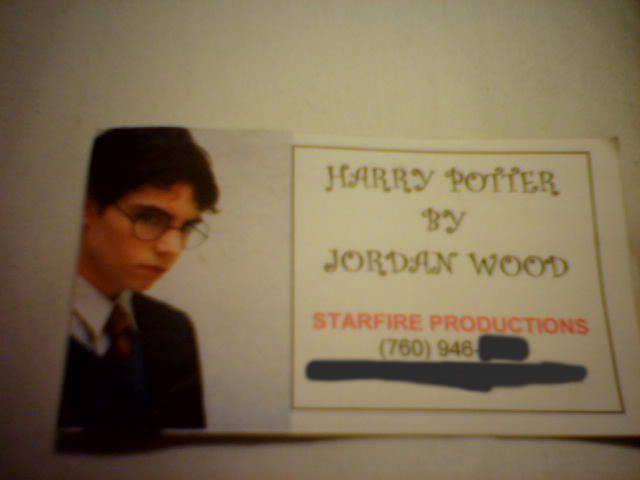 9. Jordan Wood, panhandling in costume as Harry Potter in front of Mann's Chinese Theater. Source: Associated Press.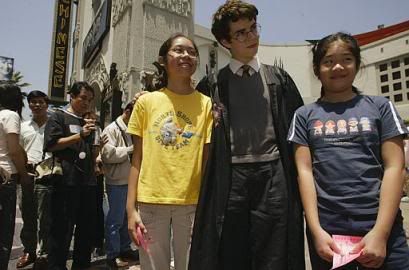 10. Jordan Wood, panhandling in costume as Harry Potter in front of Mann's Chinese Theater. Source: Associated Press.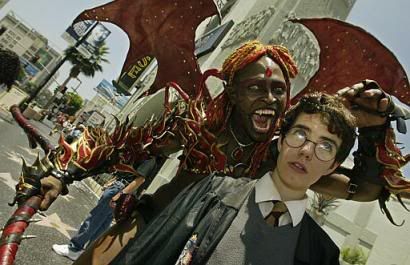 11. Jordan Wood, panhandling in costume as Harry Potter in front of Mann's Chinese Theater. Source: I believe Oulangi secretly took this photo, but it may have been a different LJ reader who was visiting Hollywood.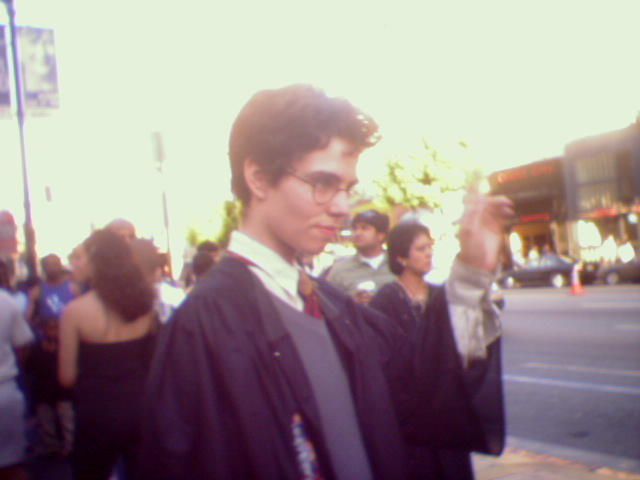 INTERMISSION: Because I just never get tired of this one: LJ reader Adahy's wonderful, whimsical ad.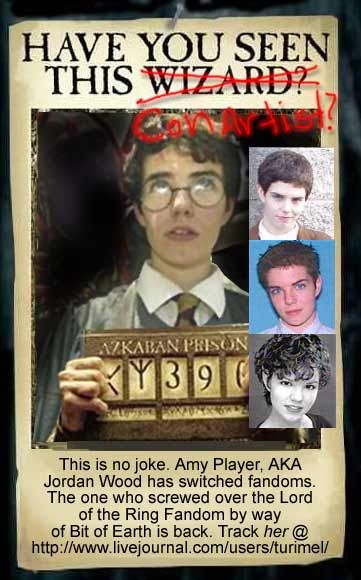 12. Jordan Wood, panhandling in costume as Legolas in front of Mann's. Pictured with Sue Astle (former Bit of Earth member and roommate of Amy and Abbey). Source: My personal photo, January 2005.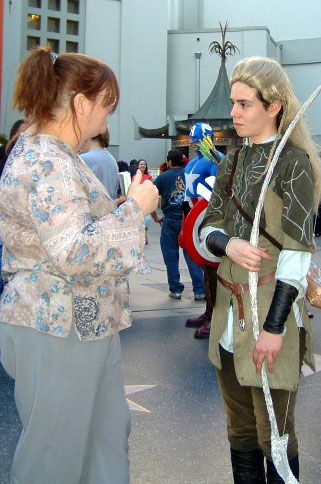 13. Jordan Wood, panhandling in costume as Legolas in front of Mann's. January 2005. I can't remember who the gal is in the photo. She was in LA for the same LOTR convention that Sue and I attended, and they popped over to Mann's to see if they could spot "Those Two." Obviously, they did.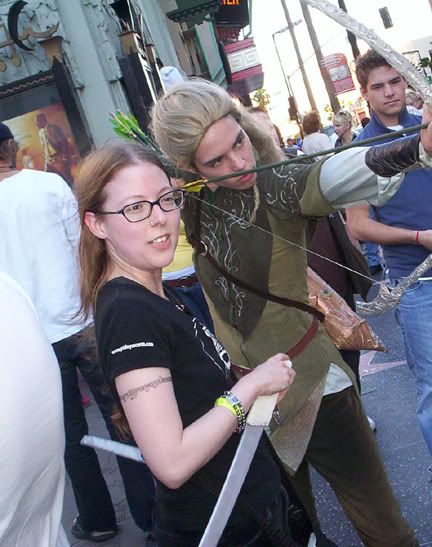 14. Jordan Wood, panhandling in costume as "Puss In Boots" in front of Mann's Chinese. Pictured with Abbey Stone, panhandling in costume as "Fiona." Source: One of the other costumed characters, who contacted me some time in mid-2005. He was distressed because Abbey and "Jordan" were claiming to be the Official Organizers of the costumed characters and were charging people a fee to be "members." They said they were working with the police and Chamber of Commerce and telling the other characters they couldn't march in parades in costume and what not, unless they paid the dues to join their club. I called both the police and the CoC; there was no official club for the costumed characters. It was all an extortion scam, to bilk their friends and neighbors out of phony "dues."





15. Jordan Wood, panhandling in costume in front of Mann's Chinese. I believe this was from early 2006. I'm not sure what character Amy is in this shot. Abbey, however, is the evil queen from Narnia, which was new.




At some point in 2006/2007, Abbey and "Jordan" left Hollywood and went Back East. I only vaguely remember the story, as it came from Amy's phony apology, and thus by definition is a giant pack of lies. Because my Livejournal records the IP address of everyone who posts here, I was able to confirm that Amy made her posts on a computer in Newport News, Virginia, her hometown. That was in March, 2007.

16.5. Andy Blake, at a Halloween party, in costume as Bill Weasley. Source: this livejournal entry. Decmber 2009. You'll have to go to the entry to see the photo.

16. Andy Blake. Source: Virginia Dept. of Motor Vehicles. This is the photo from "Andy's" driver license, which is dated July 2007. This is mere months after Amy's big "confession"--she was undoubtedly working on "Andy's" fake birth certificate at the same time she was assuring us of her new life and new intentions. I've cropped out everything but "Andy's" picture; that will hopefully pass muster with the idiots in charge of Livejournal.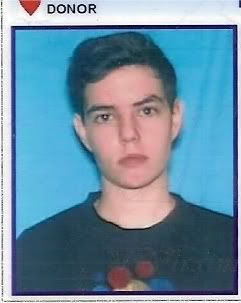 Amy was recognized as "Andy Blake" in December of 2009. There was some discussion on this journal about the fact that "Andy's" Real Life friends had seen "his" driver license. So an LJ reader who works in the Virginia DMV checked out "Andy's" license in their computer. She mailed me an image of the license in January 2010. Because she didn't have a legal probable cause to investigate "Andy Blake," she couldn't take any official action.

I posted the entire license on this journal, and "Andy" complained to Livejournal management. They locked the entry and ordered me to remove the license photo. I told them it was a fake ID, but they didn't want to hear about it. That was about the same time my mom died. It was a little too much stress and heartache for me and led me to conclude that the world wasn't worth trying to help. So I majorly abridged this LJ and said, "If you people want to hear the juicy gossip, you gotta pay for it. Buy the book."

A month ago, LJ reader Carlanime sent me a link to a news story in Fairfield, in which "Andy Blake" was involved in a triple homicide. Reading the news story, I recognized Amy Player's handiwork immediately. I've received Amy's homemade fake legal documents. I recognized Amy's writing style and absurd demands in the letters Jason Eisenburg received--the letters that drove him over the edge and led him to kill Brittany Quinn, Tony Chambers, and himself. I realized that Amy, unchecked, was doing what she does best: creating lies and chaos and using that for her own personal gain and pleasure. Except her little fun and games cost these people their lives--and now Amy is using Brittany's horrible story to leverage "charitable donations to help victims of domestic violence."

17. Andy Blake, Current. One of "Andy's" friends invited a reporter to cover the story of the Fake Charity hike. I suspect this was Amy's suggestion-"How'd you like to be the PR person! Go get us some press and you'll have a Higher Spot in my Inner Circle." That's her usual. Anyway, after the story was written, "Andy" herself submitted this photo to accompany the article. I believe it is also her FB profile photo.




And because everyone loves a direct compare-and-contrast: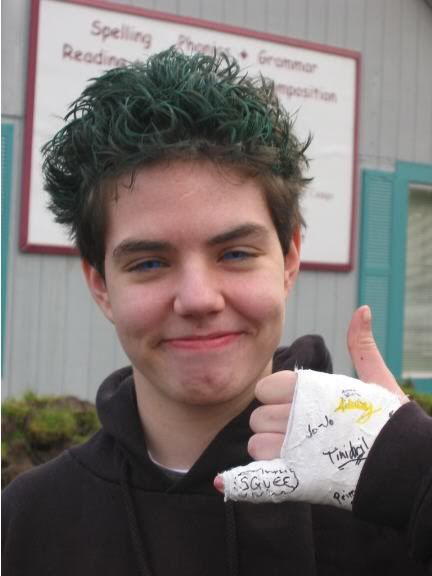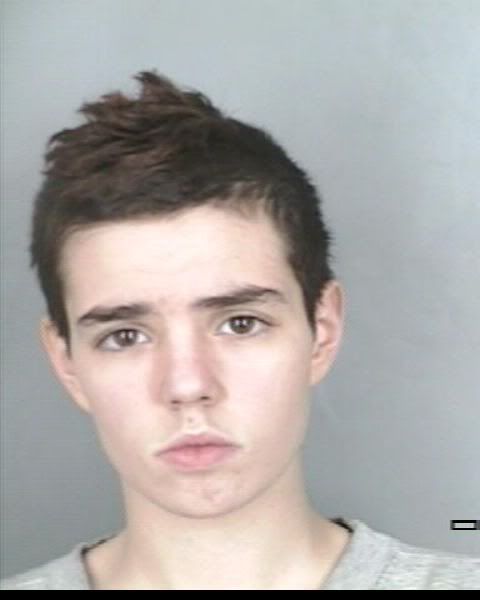 That pretty much brings us up to date. Look for yourself and trust your own eyes, folks. And I apologize to any person in the transgender community who resents the use of scare quotes and female genders: it is not meant to be disrespectful. It is meant to Cut The Crap that this con artist/identity thief has created.